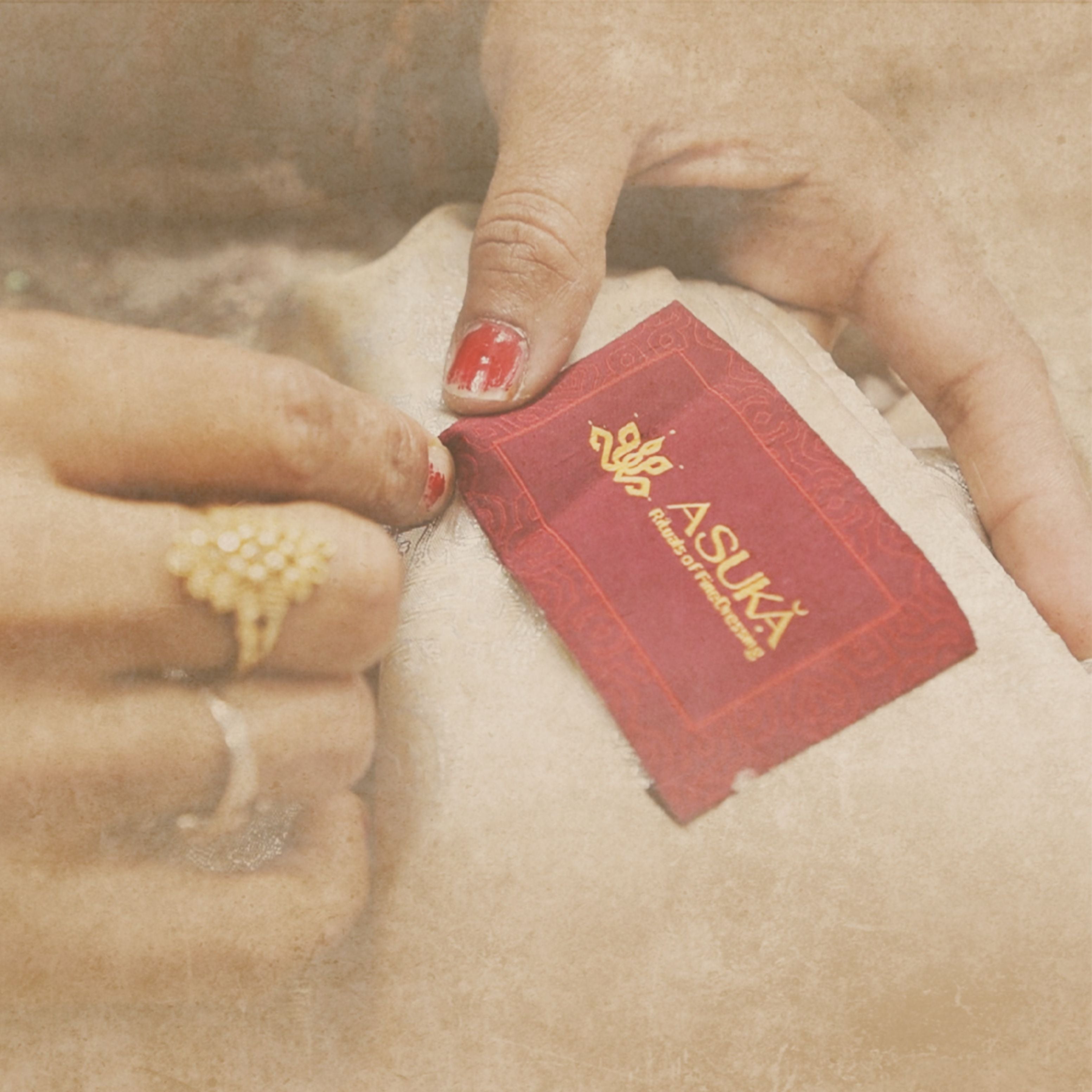 label of love
From the creation of the Khaakaa, choosing the fabric, preparing base embroidery, to going over the finer details with intricate embroidery, adding embellishments, and finishing every seam and stitch with flawless perfection – There's human touch at every stage at the creation of attire at Asuka.
Zardozi: Gilding Gold with threads

Translating to 'zar' meaning gold and 'dozi' meaning embroidery, it's the art of gilding gold with metal bound threads weaving magic on the canvas of precious fabrics. Originating from Persia, It is now an art that is a proud part of the cultural heritage of India, passed down among generations of Indian artisans who are known the world over for their exceptional hath ka hunar, some of whom we are proud to have work with us!

Cutdana: Shining stones of glimmering light

Fascinating cutdana work is used to embellish our heavily decked outfits as well as lighter and more casual attires to accentuate the design and add a touch of glimmering shine! In this type of embroidery, stones Cut At Specific Angles In Order To Facilitate The Reflection Of Light Are Sewn Into The Fabric With Thin Threads To Create Different Kinds Of Patterns And Designs.

Swarovski: Crystals of sheen

A scattering of crystals on a garment, flawlessly executed on the base design, adds extra shine to the design and has the magnificence magnified tenfold. Carried out by the meticulous hands of our karigars, it is always a sight to behold!

Sheesha work: Little glass of wondrous shine 

Using a special cross stitch, mirrors of various sizes and shapes are affixed to apparel, and the fabric is then decorated with similar stitches to enrich the overall appeal of the cloth.

Hath ka Hunar

Every seam and stitch goes through the well-trained eyes and meticulous hands of our artisans. It's their unmatched haath ka hunar that brings out the best in every outfit crafted at Asuka!

Dori: Thread binding culture, tradition, art

An amalgamation of the finest Zari and Resham threads, intertwined and twisted into one single dori, this embroidery as old as the Mughal era in the history of India, is masterfully practised at our ateliers, often as a reminder of the heritage and culture journey from the Mughal to the modern.